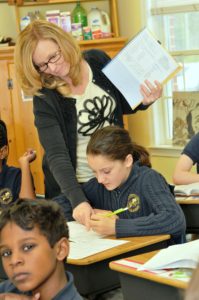 St. Stephen's Classical Christian Academy (SSCCA) offers a Pre-K through 8th grade college preparatory program employing the classical method of education from a Christian worldview. A true reflection of a child's natural learning style, the classical model is a proven method of matching cognitive developmental milestones with education. SSCCA students are immersed in an environment designed to foster growth in both virtue and intellect. We at SSCCA are committed to developing life-long learners educated to engage and impact the world around them.
An excellent education in a nurturing environment where every student is challenged to succeed is our goal at SSCCA. As part of this commitment to excellence, our classes have a maximum 15 to 1 student-teacher ratio. Maintaining this standard affords instructors at SSCCA the opportunity to ensure each child remains engaged and has a clear understanding of every lesson.
Mastery of the core curriculum is at the center of an SSCCA education.  Our students are expected to work hard to achieve success in every subject. We recognize that rigorous study develops virtue in students and we set the bar high. Annual standardized test results of SSCCA students consistently range up to 25% higher than the national average on similar tests in Mathematics, Reading, and Language. In an age when national standards in education are being constantly lowered, St. Stephen's continues to maintain high standards and expectations steeped in virtuous learning.
At St. Stephen's Classical Christian Academy we aspire to nurture the whole child – mind, body, soul, and spirit in an academically challenging environment.